COMPOSITE FILLING IN VIETNAM
WHY DO YOU NEED COMPOSITE FILLINGS?
The bacteria in your mouth make acids and when plaque clings to your teeth, the acids can eat away the enamel, and the inside part of your teeth begin to decay, causing cavities. Cavities will keep spreading if not treated.
Therefore, once cavity is detected it should be treated immediately. Filling a tooth before having toothache is better for you, because having pain means the cavity has grown and might have affected the root, in which case the treatment will be more complicated and you might need to have a root canal.
HOW IS A COMPOSITE PLACED IN VIETNAM?
To treat cavity your dentist will remove the decayed portion of the tooth and then fill the area on the tooth where the decayed material was removed. Dental filling can generally be done in one appointment. A drill, air abrasion instrument, or laser will be used to remove the decayed area. Next, the dentist will probe or test the area to determine if all the decay has been removed. Once the decay has been removed, the dentist will prepare the space for the filling by cleaning the cavity of bacteria and debris. After the dentist has removed the decay and cleaned the area, the tooth-colored material is applied in layers. Next, a special light that "cures" or hardens each layer is applied.
When the multi-layering process is completed, the dentist will shape the composite material to the desired result, trim off any excess material, and polish the final restoration.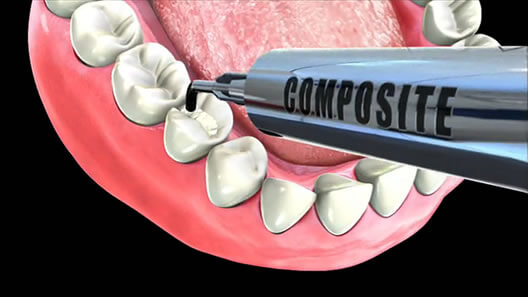 When a tooth is badly decayed or becomes infected, the treatment will generally be done in one to three appointments, or sometimes more depending on the severity of the infection. The cost of treatment involving infection is higher than the regular dental filling. Therefore, our advice to you is: clean your teeth carefully, visit the dentist often, and promptly seek treatment when cavity or gum disease is detected.
DR. HUNG & ASSOCIATES DENTAL CENTER
5
 out of 5 stars based on 17 General reviews.
---
Patient Review By Charles N
using comments from previous patience which turned out to be true as it stated.
– Charles N
Patient Review By Lee ư
I can confidently recommend thís business to deliver over and above customer expectations. Professionals án support staff are professional, empathetic and exceptionally competent
– Lee ư
Patient Review By Kim Quyên
Rất hài lòng, dịch vụ tốt
– Kim Quyên
Patient Review By Tammy W
Took me through the whole process very well. Explained everything before starting. Knew how to work with my Invisalign as well which was a bonus.
– Tammy W
Patient Review By Warren S
Brilliant service all round from start to finish
– Warren S
Patient Review By Paul
I cannot tell you how happy I am with the service and my dentist" "I came for deep cleaning. In America, my copay for deep cleaning would have been $600. But here without insurance, it was $180, bottom line. BUT, I also had a time bomb that I was ignoring. I had a molar that had no pain so I could ignore it. But it was in need of a root canal (turns out the tooth needed three root canals), a cap, and a crown. So I got that done too. That costed $442 here, but would have cost maybe >$2000 if one includes time off from work. Needless to say, not only WOULD I recommend this clinic, and the concept of dental tourism, I imagine I WILL be recommending it to all my family, friends, and work associates hopefully not beyond the point of being annoying. I cannot tell you how happy I am with the service and my dentist. I actually looked forward to my four visits for the procedures because of my dentist's ability to make me feel comfortable, that we were working on this together, and that step by step the difficult work would be done. As I mentioned, it turned out the tooth needed three root canals. After two of them, I was given the option of doing the third one the next day, or finishing same day. My dentist said that it would actually be better to do the third one third same day because of anesthesia and other reasons. Because she made me feel so confident during the first two, we successfully did the third one that day. My dentist worked from 2:15-7:30 on that. Tirelessly, methodically, and yet in such a positive way, like we were winning and would continue to win. In America, it would have been OMG everyone panic, take the whole week off of work, only one root canal a day."
– Paul
Patient Review By Denise Weersing
I had five crowns and upper and lower partials done…quite a lot of dental work involved. My girlfriend had her teeth cleaned as well as a " filler" to close the gap between two teeth. A friend of ours referred us to this clinic and I was quite impressed the moment we walked in. The entire stall was exceptionally friendly, professional and patient during my entire treatment. I cannot say enough about the wonderful experience I have had and will come back again (even just to say hello to the doctors and assistants). On a scale of one to five I would rate this clinic a 5*
– Denise Weersing
Patient Review By Le Trong Ky
My wife and I needed some fillings done and since we were already in Vietnam we chose Dr. Hung & Associates because of all the high reviews. First impression is that this dental office is immaculate. Their attention to detail and professionalism and care towards their patients is at a standard that is far beyond any dental office I've seen in the states. My wife couldnt speak high enough about this office. We would recommend this office to our friends and families and will definitely be coming back
– Le Trong Ky
Patient Review By Pascal Lieblich P
I had 2 wisdom teeth removed and 10 (small) cavities filled. It was fantastic! I am very uncomfortable going to the dentist generally but they did a great job. No pain whatsoever! In particular I want to recommend Dr. Vu Thi Phuong Lan, who did all dental work in my case and who is a fabulous dentist! The cost was very also reasonable. Very professional and client-focused. Real top quality work. I have nothing but praise for their work. It's a 5 minute walk from the tourist area, so that's convenient as well! If you need dental work done, this dental clinic is absolutely recommended
– Pascal Lieblich P
Patient Review By Dugald Fisher
You have given me a new mouth !!! All I need now is a new body to go with it ! Though, it is a magnificent job you have done and at 77 years of age. I am confident I will never have to worry again. Most of all, thank you for your kindness and friendship.
– Dugald Fisher
Patient Review By Ashleigh Lewis
I was experiencing terrible pain from tooth ache and needed to see a dentist urgently. I looked at reviews online to see which dentist practice was the best and HD dental Center was top of the list. I can see why! The staff were really helpful and friendly from the moment I walked through the door. The dentist who did my root canal was very professional and caring. The rooms are extremely clean and hygenic. Also the prices were very reasonable. Really happy with the over all experience. I defintely reccommend this practice.
– Ashleigh Lewis
Patient Review By Tracy Scaly
I required a root canal, followed by a crown. I was very happy with the customer service aspect from the very beginning, with it being very helpful that I was able to communicate with the surgery in English. I found the staff very accommodating and considerate at all times. I had my initial appointment for the root canal on a saturday morning, followed by the crown fitting on sunday morning, and the final crown fitted on tuesday morning. At all times I was dealt with in a friendly, professional manner. Hygiene was of a high standard. I experienced no pain or discomfort following any of the work; also, I felt I was always being treated in a kind and gentle manner. Thank you very much.
– Tracy Scaly
Patient Review By Kelley S
I cannot recommend this dentist highly enough to any westerners contemplating any form of dental work. It is clean and all staff are professional, helpful and extremely understanding. All techniques used are far superior to any dentist you will find in Australia. Do come and have your dentistry done here!
– Kelley S
Patient Review By Chris
I am very happy with the clinic. They made you feel welcome and comfortable. The end result is much better than I ever imagined and the price was really cheap and affordable. I would recommend the clinic to anyone who needs work.
– Chris
Patient Review By Uranee
My first experience getting my teeth done during a busy business trip has been very much enhanced by good customer service and quality treatment here at Dr.Hung's clinic. Comparing to Thailand (where I am from originally), the price for the treatment I received i.e. root canal, one tooth cap and general teeth cleaning is very reasonable (335 USD for everything!). I would definitely recommend anyone who needs dental attention and will be passing through HCMC to visit Dr.Hung's office.
– Uranee
Patient Review By Bao Anh, Singer
The doctors are enthusiasm, caring and very professional. Bao Anh is absolutely satisfied with the services at Dr.Hung Dental Center.
– Bao Anh, Singer