Crown lengthening
Crown lengthening is the most common technique in surgery related to periodontal tissue. Crown lengthening is generally performed in order to improve the health of the gum tissue, or to prepare the mouth for restorative or cosmetic procedures. In addition, crown lengthening procedures can also be used to correct a "gummy" smile, where teeth are covered with excess gum tissue.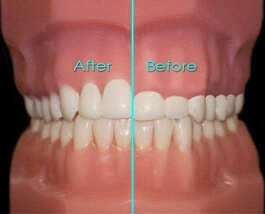 TRADITIONAL TECHNIQUE
This technique uses a dental drill to drill the tooth and shape cavity fillings. To prevent the drill from touching the tooth's root, your dentist will limit the drilling, therefore might leave some bone fractures on the root which will be removed with simple hand tools.
SURGICAL APPROACH WITH PIEZO 
This modern method is extremely secured. With the Piezo surgery, the doctor can remove the extra bone underneath the gum without making any harm to any of the soft tissues.
Healing time is accelerated when Piezo surgery technology is used. Not only will you heal faster than with traditional surgery, but also experience minimal postoperative pain or discomfort.