HO CHI MINH CITY: THE TOP 6 THINGS YOU MUST DO
DISCOVERY SMALL GROUP ADVENTURE TOUR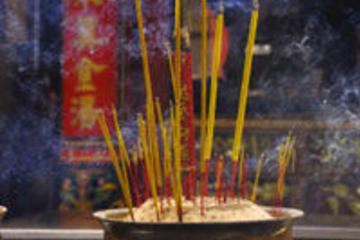 Overview
Explore bustling Ho Chi Minh City (formerly known as Saigon) on this small group adventure tour.The Ho Chi Minh City tour will give you an insight into the history, culture and the daily life of the locals in Ho Chi Minh City. Discover the historic Giac Lam pagoda, bargain for souvenirs at Ben Thanh market and enjoy a lunch of local Vietnamese cuisine. Learn about Vietnam's modern history by visiting the Reunification Palace and finish the day with a stroll along Ho Chi Minh City's tree-lined boulevards.
What You Can Expect
Your first stop is Giac Lam, built in the 17th century it is the oldest pagoda in Ho Chi Minh City. Continue to Chinatown with stops at Cholon and Binh Tay markets to see the locals bartering for wares. Next is Thien Hau temple, built in the early 19th century and dedicated to the Thien Hau the goddess of seafarers. Continue to Nha Rong wharf where Ho Chi Minh first left Vietnam in 1911. Your final stop before lunch is at the Ben Thanh Market, where you can practice your language skills and barter for goods. The market's original location was close to the Ben Nghe River before it was destroyed in 1859 during the French invasion of Saigon. It was rebuilt and moved to its present location in 1899.
Enjoy lunch at a local Vietnamese restaurant where your guide will explain the local specialties. After lunch you'll visit the War Remnants Museum, originally opened in September 1975, it displays old military equipment and other related items from the Vietnam War. In the courtyard you will find some larger exhibits including a F5A fighter and a UH1-Huey helicopter. Continue on foot past the Reunification Palace, Notre Dame Cathedral, the General Post office, and the Opera house which are all beautiful examples of architecture from the French colonial period.
At the end your tour you are free to continue exploring the area or your guide will assist you in getting a taxi back to your hotel.
HALF-DAY AFTERNOON CU CHI TUNNELS TOUR

Overview
Located 37 miles (60km) from Ho Chi Minh City, Cu Chi is now considered a heroic district for its role during the American war in Vietnam. It is legendary for its network of tunnels, which extend over 135 miles (220km), and is a popular destination for both Vietnamese and foreign visitors
What You Can Expect
This afternoon, depart for Cu Chi tunnels, a 1.5 hour drive from Ho Chi Minh City.
Your tour guide will give you an overview introduction of Cu Chi and its legendary history. An documentary film about the tunnels tell you how about the tunnels histories and how fierce the war did happen in the area. You will be guided to the tunnels system including the weapon factory, hospitals, kitchens and crawl under the tunnels.
After that travelers can try delicious manioc which is the main food for guerillas in Cu Chi during the war. Visitors can try to fire off an AK47 or MK16 or machine guns at the nearby shooting range. Leave Cu Chi tunnels and arrive back in Ho Chi Minh City around 6pm
MEKONG DELTA DAY TRIP WITH COOKING CLASS AND CAI BE FLOATING MARKET TOUR

Overview
Experience rural life in Vietnam with a boat ride on the Mekong Delta! This day trip from Ho Chi Minh City to Cai Be takes you to tranquil fruit orchards, a candy factory and Cai Be Floating Market before a visit to Tan Phong Island for a cooking lesson. You'll learn the art of Vietnamese cuisine and interact with the locals as you bicycle around the village – a great getaway! Enjoy personal attention from your guide on this small-group tour, limited to 12 people.
What You Can Expect
After pickup from your hotel, transfer by air-conditioned vehicle to the town of Cai Be, located approximately 100 miles (160 km) southwest of Ho Chi Minh City. On the way, stop to take photos of the beautiful landscapes and typical farmers working in the rice fields.
Upon arrival in Cai Be, hop on a motorboat with your small group and visit the Cai Be Floating Market, established in the 19th century on the Tien River. Observe locals trading fruit and other wholesale goods, hung from poles aboard boats and rafts, in the bustling floating market. Then, disembark for a short walk to a coconut candy factory and tour the facility to learn how the sweets are produced.
You'll have the opportunity to purchase some candy before meandering with your guide around the small villages of the Mekong Delta. Visit a fruit orchard and plantation, and listen to traditional southern Vietnamese music called don ca tai tu, which combines elements from court music and folk music.
Afterward, cruise along the Mekong Delta to Tan Phong Island. Here, join your small group in a half-day cooking class with your guide. You'll learn to prepare Vietnamese dishes from several regions as you discover the many cultural influences at play in Vietnamese cuisine. Try your hand at making savory specialties like fried elephant-ear fish, grilled steak cooked in a bamboo cylinder, grilled fish in banana leaf and fish braised in a clay pot.
Enjoy your delicious creations with your fellow food lovers before hopping on a bicycle to ride along the village path. Pass fruit orchards and a bonsai garden as you explore the neighborhood with your guide and mingle with the local villagers. Your day trip ends with a boat ride back to Cai Be and return transport to your Ho Chi Minh City hotel.
CLASSIC MEKONG DELTA- DELUXE GROUP TOUR
Overview
At the heart of the Mekong Delta, My Tho is an amiable market town which offers a glimpse into the unique and distinct agricultural life of the vibrant southern Delta region. This city is dotted with serene Buddhist pagodas that are surrounded by beautiful paddy fields and dense fruit trees.
Joining Deluxe Group Tours for a more personalized experience, going to Mekong Delta to board a traditional boat, discover the vast network of canals and channels, taste local specialties and try many kinds of transportation in Mekong Delta…Enjoy your day!
What You Can Expect
We pick you up at your hotel from 8AM to 8:30 AM, transfer by air-conditioned mini-van to My Tho, 70 km away from Saigon, about 1.5-hour card ride. On the way, we go through rice paddies and small villages.
Upon arrival in My Tho, visit Vinh Trang pagoda, one of the most famous landmarks in the region. Then we enjoy around 3-hour boat trip and rowing sampan in small canals, visit an island where we have a short walk in a village. Witness a step-by step process on how to make coconut candy and try some yourself.
Taste honeybee tea and tropical fruit while listening to traditional southern Vietnamese music called "don ca tai tu" which combines court music and folk music.
Lunch served at a riverside restaurant with savory specialties like fried elephant-ear fish, spring rolls, grilled chicken, vegetable soup, …
After lunch, your day trip ends with a boat ride to My Tho and drive back to Saigon.
BITEXCO FINANCIAL TOWER: SAIGON SKYDECK GENERAL ADMISSION TICKET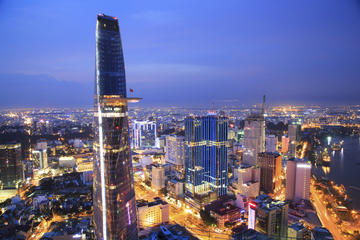 Overview
Guests of the 49th-floor Saigon Skydeck can enjoy a spectacular 360-degree view of the entire city, including the Saigon River, from 178 meters (584 feet) above the ground. Experience a feeling of refreshing excitement and enjoy a comfortable and pleasant visit with the professional customer service staff at Skydeck.
What You Can Expect
Open to the public since 2011, the Saigon Skydeck sits on the 49th floor of the the Bitexco Financial Tower, a 68-floor skyscraper measuring in at a height of 262 meters (861 feet). The tower also houses Vietnam's first helipad, designed to resemble a lotus, Vietnam's national flower.
Guests will board the high-speed elevators (you can get from the ground floor to the top floor in less than 35 seconds!) to reach the observation deck. Apart from the spectacular 360-degree view of the city, guests can also interact with screens offering up interesting facts about the landmarks seen at various points in the city below their feet. An English-speaking guide will also be available on-site to offer more insights about the tower and the city. Local art exhibitions may also be found at the Skydeck, depending on the time of year, and there is a gift shop offering sales of locally produced tea and textiles. The tower is also home to several fine dining restaurants, a cinema, and a shopping center, perfect for some post-Skydeck entertainment before you exit the tower.
CU CHI TUNNELS SMALL GROUP ADVENTURE TOUR FROM HO CHI MINH CITY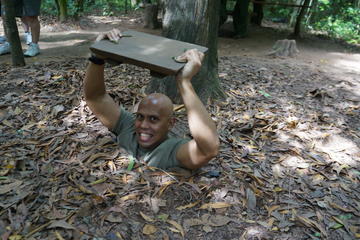 Overview
Experience the world of the Cu Chi freedom fighters with a visit to their famous tunnel system. This network of over 200 km of tunnels became legendary during the 1960's when they played a vital part in the American War, allowing the Viet Cong to control a large rural area close to Ho Chi Minh City. In their heyday, the tunnels were functioning underground cities.
What You Can Expect
Leaving the hustle and bustle of Ho Chi Minh City behind, take a 2.5-hour journey west towards the Cambodian border bound for the Cu Chi Tunnels. The Cu Chi tunnels were built by local fighters during the Indochina conflict as a base from which the Viet Cong could operate from close to the Southern Vietnamese capital. Initial construction started in 1948 when the Viet Minh required somewhere to hide from French air attacks and by 1965, the Cu Chi tunnel complex was estimated to consist of 200km's of tunnels. It included, hospitals, schools, meeting rooms, kitchens and sleeping quarters. Life was difficult for the inhabitants and to protect against outside intruders bobby traps were laid throughout the complex.
Your local guide will take you on a fascinating tour around the Cu Chi Tunnels where you'll learn more about the conditions the Vietnamese people lived in, the hardships they faced and the amazing ingenuity employed to maintain life in the tunnels.