Vietnamese Traditional Food
1. Bánh mì (banh mi)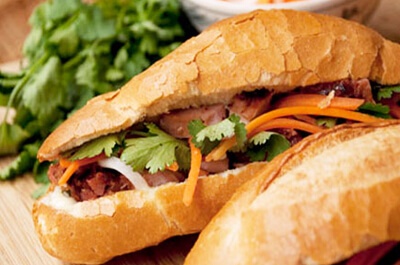 If you're even the slightest bit into
Vietnamese food
, you've probably eaten numerous banh mi sandwiches.
Along with pho, easily the most exported Vietnamese speciality is banh mi. Although banh mi can mean a variety of different things, and in Vietnamese it actually just means bread, sometimes the term can be used to refer to any type of the beautiful Vietnamese personal baguette sandwich.
Walking around Saigon you'll see dozens of carts with signs selling banh mi – it's actually hard to go more than a block without seeing one – so it's never hard to find.
There are many different varieties of banh mi, and here's a good resource for seeing the different types, but the basic sandwich starts with a crusty baguette that's sliced in half (sometimes using a scissors) and stuffed with layers of pork, luncheon meats, shredded cured pork skin, pâté, mayonnaise, Vietnamese radish and carrot pickles, a handful of sliced cucumbers, sprigs of coriander (cilantro), and last but not least, an optional, yet in my opinion necessary, scoop of fresh pounded chilies.
The sum of these ingredients together is what really makes banh mi such a glorious sandwich. Coming from Bangkok, where I can't remember the last time I ate bread or a sandwich for that matter, I was pretty happy to devour as many banh mi as I could when I was in Vietnam.
Where to try
Bánh mì Huỳnh Hoa

Address: 26 Lê Thị Riêng, Ben Thanh, District 1, Ho Chi Minh City

Open hours: About 3:30 pm – midnight daily

Price: 30,000 VND ($1.40), more expensive than others, but worth it for the amount of meat
Bánh Mì Hồng Hoa

Address: 62 Nguyễn Văn Tráng, District 1, Ho Chi Minh City

Open hours: I think open in the morning, I arrived at 8 am, and they seemed to be at their peak serving, so good place for breakfast

Price: 17,000 VND ($0.80)
Banh Mi 37 Nguyen Trai

Address: 37 Nguyễn Trãi, Ho Chi Minh City (though the address is 37, it's right at Hem 39)

Open hours: From around 4:30 pm – 7:30 pm each day

Price: 16,000 VND ($0.75)
2. Phở (pho)
No matter if you've been to Vietnam before or not, you've likely heard of pho, if not already eaten it many times before.
The noodle soup didn't become so famous for nothing – it really is one of the most common dishes in throughout the country, and it makes the Vietnamese food menu at nearly every sit-down restaurant too.
Pho is the combination of soft rice noodles in a soup broth, normally prepared with either bo (beef) or ga (chicken) – both of which can be extremely delicious, but I'm normally more of a beef kind of guy.
The noodles are flash boiled until soft, topped with your choice of meat, and often finished with a sprinkle of chopped green onions and sometimes sweet onions as well.
But what I really love most about eating pho in Vietnam is the fresh plate of herbs, typically including sawtooth herb, mint, and Vietnamese coriander, along with house-made chili sauce, that's on your table for self-service when you eat it.
While I did enjoy a bowl of pho from time to time when I was in Vietnam, I think pho is sort of the pad thai of Vietnamese cuisine, in that, yes it's very good, however there are also so many other delicious dishes to try – perhaps it has a little undeserved fame, when compared to so many other delicious Vietnamese dishes?
Where to try
Phở số 01 Hà Nội
Address: 25 Nguyễn Thị Minh Khai, Saigon, Vietnam
Open hours: All day and night – they are open 24 hours
Prices: 28,000 VND ($1.29) for a bow
Phở Phượng 25

Address: 25 Hoàng Sa, District 1, Ho Chi Minh City (it's located very close to the famous Lunch Lady of Saigon)

Open hours: 6 am – 9 pm daily – great for any meal

Prices: 40,000 VND ($1.85) for a bowl
Phở Hòa Pasteur

Address: 260 Pastuer, District 3

Open hours: 6 am – 9 pm daily – great for any meal

Prices: 40,000 VND ($1.85) for a bowl
3. Bún riêu (bun rieu)
Vietnam is a land of noodle soups, and many enjoy at least one bowl of noodles a day, some, maybe even a few.
After trying many different types of Vietnamese noodle soups during my stay in Saigon, I "think – and I say that because I change my food mind quite often" I can say my favorite is bun rieu.
The broth is made from a crab base stock, and another key ingredient are tomatoes, which create a broth that's slightly seafood tasting, yet has a beautiful natural sweet and tartness from the tomatoes. I think there's also often some rice vinegar included in the recipe to give it a lovely sour and well-rounded flavor.
Along with the wonderfully flavorful broth in a bowl of bun rieu, the noodles are often similar in shape and size to spaghetti noodles, except soft rice noodles.
Topping the noodles are pieces of golden fried tofu, sometimes meatballs, hearty chunks of pork, squares of congealed pig's blood, and finally a slab of rich crab paste.
The dish reminded me of a few similar Thai dishes like northern Thai nam ngiao, a tomato stew.
To eat bun rieu, you normally garnish it with shrimp paste or crab paste, then load it up with chili sauce, a squeeze (or I like multiple squeezes) of lime juice, and then devour it with a small mountain of herbs and shredded vegetables.
For noodle soup in Vietnam, I really think it can't get much better than a steaming hot bowl of bun rieu cua
Where to try
Bún riêu Nguyễn Cảnh Chân

Address: 18/5 Nguyễn Cảnh Chân, District 1, Ho Chi Minh City

Open hours: 11 am – 7 pm daily

Prices: 45,000 VND ($2.08)
Bún Ốc Riêu Cua Thanh Hải

Address: 14/12 Kỳ Đồng, District 3, Ho Chi Minh City

Prices: 66,000 VND ($3.0)
4. Bún mắm (bun mam)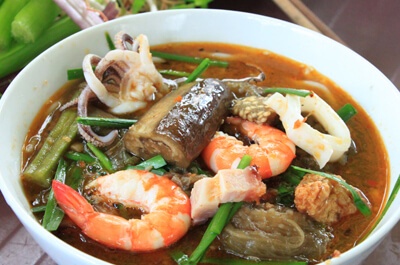 Graham Holliday, an author and expert on Vietnamese food labels bun mam, despite its pungent smell, as his wholly favorite Vietnamese noodle dish.
Bun mam is specifically a southern Vietnamese dish, and just like most other noodle soups, you'll find it at both sit down restaurants and portable street food stalls around town – though it's not nearly as common to spot as some other noodle dishes on this blog.
The base of any bowl of bun mam (bún mắm) is a dark colored broth prepared with fermented fish sauce (which I believe is similar to Thai pla ra).
The fermented fish sauce gives the soup broth a well rounded, balanced flavor, and it's honestly not nearly as fishy as it might sound or smell.
Along with the broth, bun, or rice vermicelli noodles, are loaded into the bottom of the bowl, before the entire assortment of meats like squid, prawns, and pork are all scattered on top of the noodles.
Finally, a slice or two of eggplant, which soaks up all the broth, is another essential component of a bowl of southern Vietnamese bun mam.
In addition to the glorious fish flavor, the broth of a bowl of bun mam is usually sweetened with tamarind juice and sugar.
Although bun mam was honestly a little too sweet of a flavor for me (I'd go with a bowl of bun rieu most of the time), it is widely popular, and it's a Vietnamese food you definitely need to try when you're in the city.
Where to try

Bún Mắm Phan Bội Châu

Address: 22 Phan Bội Châu, across from Ben Thanh market, Saigon

Open hours: Not sure exactly, but they are open for breakfast, lunch and throughout the afternoon

Price: 65,000 VND ($3) per bowl
5. Bún bò Huế (bun bo Hue)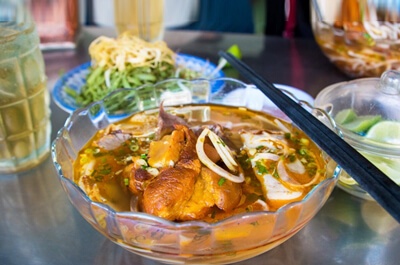 Probably one of the dishes most mentioned that many of you suggested I should eat in Vietnam was bun bo Hue (I think there's an entire Vietnamese culture surrounding this dish, and it may be gaining some traction against pho)!
Alright, bun bo Hue is not actually from Saigon, it originates in Hue – a city on the coast of central Vietnam, which unfortunately I haven't been able to visit yet – but I included it on this Vietnamese street food guide because it's one of the most beloved noodle soups in Saigon as well. Bun bo Hue is beef based, and in Vietnam it's known for being spicy and flavorful.
The broth, which if made to specification, should be full of beef bone flavor, and fragrant with lemongrass, has a wonderful taste, like a citrusy beef soup.
The noodles are normally rice vermicelli noodles, of the sphagetti size, and a bowl of bun bo Hue is often served with slices of beef, a hunk of either ox tail or pork knuckle, cha lua (Vietnamese sausage and ham), and a handful of green and sweet onions.
Again just like every other noodle dish, the extra herbs, flash boiled vegetables, and chilies, give bun bo Hue an added dimension of deliciousness.
i am a food blog calls bun bo Hue, a dish "you never knew you loved," and that was true for myself, having never had it before going to Vietnam, but I loved it (by the way, check out her amazing recipe for the dish).
For myself, after bun rieu, bun bo Hue is probably my next favorite Vietnamese soup, and I haven't even been to Hue yet.
Where to try
Bún bò Chú Há

Address: 300 Võ Văn Tần, District 3, Ho Chi Minh City

Open hours: 6 am – 10 pm daily

Price: 60,000 VND ($2.77) per bowl, a bit expensive, but extremely generous on the meat


Bún bò Đông Ba

Address: 110A Nguyen Du, District 1, Ho Chi Minh City

Open hours: 6 am – 10 pm daily

Price: 50,000 VND ($2.5) per bowl
6. Hủ tiếu Nam Vang (Hu tieu Nam Vang)
Yet another dish, that has a huge following of Vietnamese cuisine lovers, is Hu tieu Nam Vang.
Nam Vang, as I understand, is the Vietnamese word for Phnom Penh in Cambodia, and Hủ Tieu has connections to Teochew in China.
So what does that have to do with this Vietnamese favorite food?
As I've read, Hủ Tieu Nam Vang is a Cambodian and Chinese pork based noodle soup, that contains slices of all sorts of organs, and a shrimp or few, plus an assortment of other additions.
Hủ Tieu Nam Vang was a little on the plain side for my personal taste buds, but I did like it when spiced up with some chili paste, loaded with chilies, and combined with that huge fresh plate of herbs and vegetables that it's always served with.
I often saw local Vietnamese season their Hủ Tieu Nam Vang with the transparent looking chili sauce and dark soy sauce as well.
Where to try
Hu Tieu Nam Vang on the street

Address: It's on Cao Thang road just past Nguyen Dinh Chieu

Open hours: Open for lunch for sure from about 10 am – 2 pm or so

Price: 22,000 VND ($1) – it's pretty cheap but didn't include much meat
Hủ tiếu Nam Vang Nhân Quán

Address: I think there are a number of different location, but I ate at the branch on 72 Nguyễn Thượng Hiền

Open hours: About 5 pm – 10 pm

Price: 65,000 VND ($3)
8. Bún chả (bun cha)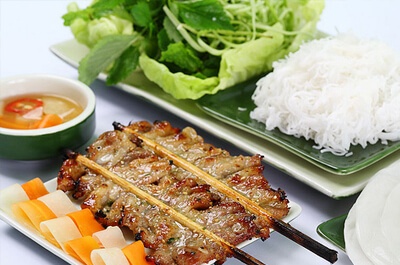 Just like bun bo Hue, another dish on this list that's not from Saigon, but this time rather from Hanoi, is bun cha.
The reason I included it on this Saigon food article is because I simply love it – if there's ever a restaurant with a country wide Vietnamese food menu, I would probably jump at bun cha.
When I visited Hanoi, years ago back in 2010 or so, I had bun cha at one of the most well known spots, and it blew my mind with how good it was.
For years I dreamed about another bowl of bun cha, until finally I returned to Vietnam this time-round, and I needed to satisfy my craving.
Bun cha is a dish that uses bun, fresh rice vermicelli noodles, the same noodles used in bun thit nuong, which are soft and easy to chew.
The next component of bun cha, are little seasoned pork patties (kind of like pork sliders), that are grilled over charcoal.
A plate of bun is served alongside a bowl of grilled pork patties, which after being grilled, are served in a smokey sour soup, and finally a plate of herbs and green vegetables are served to accompany everything.
The main way I saw most Vietnamese eating bun cha, was to add a bit of rice vermicelli to the pork patty soup, garnish with garlic, chilies, and herbs, and then repeat.
Bun cha is an absolute sensational dish, and if you don't visit Hanoi, even though that's definitely where the best is, you can still try it in Saigon.
Where to try
Bún Chả Ánh Hồng Hà Nội

Address: 140b Lý Chính Thắng, District 3, Ho Chi Minh City

Open hours: 6:30 am – 8 pm daily

Prices: bowls of normal sized bun cha combinations are 38,000 VND ($1.75)
Bún chả Hoa Đông

Address: 121 Ly Tu Trong, District 1, Ho Chi Minh city, Vietnam

Open hours: 6:30 am – 8 pm daily
9. Bánh canh cua (banh canh cua)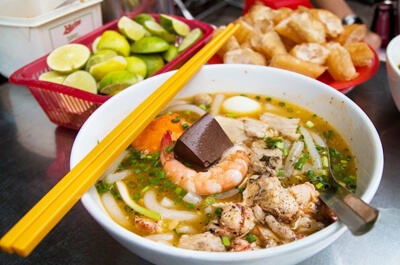 Banh canh, according to Wikipedia, actually means soup cake in Vietnamese, that's the literal translation.
That's likely because the noodles are so hearty and so thick.
Banh canh is quite similar to Japanese udon noodles, except I thought the noodles, which are typically made with a combination of rice and tapioca starch, were more sticky and a little chewier than udon, which are typically made with wheat flour.
Although there are a few different versions of banh canh, the one I ate, and fully enjoyed was banh canh cua, the thick starchy noodles with crab.
Instead of being a typical noodle soup with a thin stock, banh canh cua is more like a hearty stew, the broth is thickened like gravy, almost like Thai cuisine style radna.
The gravy normally has quite a mellow crab flavor, but what's really impressive are the nuggets of crab meat that come in a bowl, and the toppings, including chilies and limes.
If you're a crab lover like I am, this is a Vietnamese dish for you.
Where to try
Bánh Canh Cua Trần Khắc Chân

Address: 87 Trần Khắc Chân, Ho Chi Minh City

Open hours: 2 pm – 9:30 pm daily

Prices: 35,000 VND ($1.62) per bowl, and then I had a plate of Chinese donuts for just – 3,000 VND, good price for great food
Bánh canh cua Võ Văn Tần

Address: 320 Võ Văn Tần, District 3.

Open hours: 2 pm – 9:30 pm daily

Prices: 35,000 VND ($1.62) per bowl.

10.Bún thịt nướng (bun thit nuong)
Vietnamese cuisine is brilliant for combining a contrast of flavors and textures into a single dish, and I think bun thit nuong, or better yet bun thit nuong cha gio, is a great example of this.
The dish normally begins with a handful of chopped up herbs and lettuce at the bottom of a bowl, then in goes fresh rice vermicelli noodles (similar to Thai khanom jeen noodles), then a few skewers of grilled pork are layered on that, and finally a sweet and salty fish sauce, and a scoop of oily chives and green onions, and pickles are all added on top.
If you get the bun thit nuong cha gio, in addition to everything already mentioned, you'll also get a fried spring or two chopped up on top, which bumps the delicious-meter up another notch.
The noodles are soft and silky, the pork is tender, salty, and sweet, and the egg rolls (cha gio) add a beautiful crunch to everything.
When I was in Vietnam, I enjoyed dousing my bowl of bun thit nuong with a few scoops of freshly ground chili (which should usually be on your table) to balance out the sweetness and make it fiery.
Bun thit nuong is a dish you should for sure not miss when you're eating in Saigon.


Where to try
Chị Thông Bún Thịt Nướng

Address: 195 Cô Giang, District 1, Ho Chi Minh City

Open hours: 7 am – 10 pm daily

Prices: 40,000 VND ($1.85)


11. Bánh tằm bì (banh tam bi)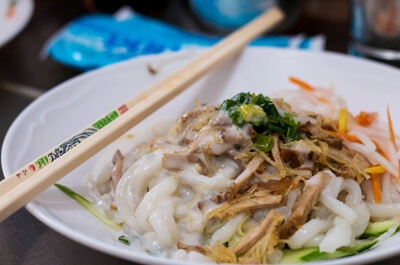 Bánh tằm bì is a food that's only available in the south of Vietnam, and if you love the flavor of coconut milk, you're going to fully enjoy banh tam bi.
Just like banh canh cua (food featured above), banh tam bi is a dish that uses a similar thick noodle – yet the flavor and the toppings are much different.
A plate of banh tam bi often begins with a handful of roughly cut herbs, including lots of sweet basil and Vietnamese coriander on the bottom, topped by a pile of thick sticky rice noodles, a scoop of both finely shaved pig skin and pork meat, a garnish of green onions, and finally a ladle of thick coconut cream sauce.
The noodles are sticky and soft, the herbs add a nice fresh touch, and the gravy is typically sweet and buttery from the coconut milk.
While I did think banh tam bi was pretty good, it's not a dish I really loved because it was on the sweet side for me, and lacking a strong or spicy flavor.
Nevertheless, it was very enjoyable and I did like it, but it would be more of an occasional dish on my Vietnamese menu repertoire. But again, if you love coconut milk, you should by all means try banh tam bi.
12. Bánh cuốn (banh cuon)
I'm a huge fan of Vietnamese bánh cuốn, and though originally comes from the northern part of the country, it's extremely popular throughout Saigon.
Banh cuon, which directly translates to rice cakes, are sort of like noodle wrapped, non-deep fried spring rolls, packed full of savory ingredients.
To prepare the recipe for banh cuon, a thin layer of rice and tapioca flour batter is steamed into a noodle like crepe. It's then filled, often with a combination of lightly seasoned minced pork, small dried shrimp, and wood-ear mushrooms, and served with finely shaved lettuce and blanched bean sprouts on the side.
Finally, you can't eat banh cuon without dipping it into sweet fish sauce, known as nuoc cham, the stuff many people say is the lifestream of Vietnamese cuisine, and I personally can't live without chilies.
What I love about banh cuon are the soft fresh noodle wrappers, and since I'm not a huge desserts or sweets lover, I like the salty mix of pork and shrimp on the inside.
When I was walking though local fresh wet markets in Saigon, I noticed banh cuon being made all over the place, especially in small tightly packed alleys. So keep an eye out for banh cuon all over the place.
Where to try
Bánh Cuốn Hải Nam

Address: 11A Cao Thắng, District 3, Ho Chi Minh City

Open hours: 7:30 am – 10:45 pm daily

Price: A normal plate of banh cuon is 30,000 VND ($1.38) here
13. Bánh xèo (banh xeo)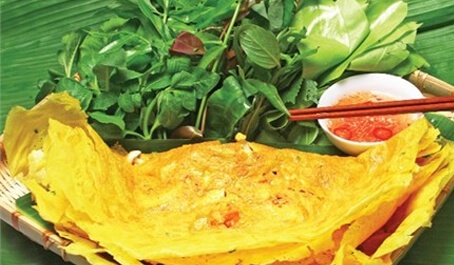 Sort of like a crepe, and sort of like a Thai oyster omelet, a Vietnamese banh xeo is a crispy savory snack that's a favorite for many.
Just like banh mi sandwiches, banh xeo is a bit of a French inspired Vietnamese culture creation.
A thin layer of batter is fried in a lot of oil, then combined with your choice of ingredients, often including slices of pork belly, shrimp, and onions, then folded over with a handful of lightly cooked bean sprouts in the middle.
By far the best part of eating banh xeo for myself is getting to dress and garnish each bite with a bounty of herbs and toppings (are you seeing the pattern with herbs and vegetables in Vietnamese cuisine!?).
You can really eat banh xeo however you want, but the common method is to take a few leaves of lettuce or mustard leaves, load in a piece of the golden crispy crepe, top it with some more herbs like sweet basil and perilla leaves, add some chili (or a lot of it), roll it up like a green spring roll, and then dip the entire treat into the sweet Vietnamese fish sauce dressing.
From what I understand, banh xeo in the south of Vietnam are usually larger in size, almost approaching south Indian dosa status, while in other parts of Vietnam they are usually smaller.
Where to try
Bánh xèo Đinh Công Tráng

Address: 46 Đinh Công Tráng, Tan Dinh, District 1, Ho Chi Minh City

Open hours: 9 am – 9 pm daily

Prices: We ordered the giant special banh xeo which was pretty big and pretty expensive at 110,000 VND ($5.09) – prices are very high here due to fame I think


Bánh xèo Mười Xiềm

Address : 190 Nam Kì Khởi Nghĩa Street, District 3

Open hours: 9 am – 9 pm daily
14. Bánh khọt (banh khot)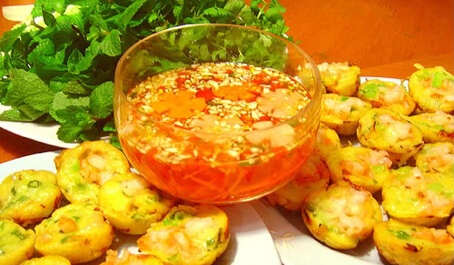 While banh xeo is the crepe of Vietnamese cuisine, banh khot are the little pancake sliders.
I have to say that for myself personally, I enjoy eating banh khot probably better overall than banh xeo – banh khot makes a delicious little light meal or snack.
The batter of banh khot is made from rice flour, sometimes even leftover rice like in Helen's recipe, coconut milk, and a hint of turmeric powder to give it that slightly yellow color.
The batter is then fried in a hot griddle, the same pan used to make Thai khanom krok (little coconut griddle cakes).
As the batter is sizzling away in plenty of oil, a shrimp is placed in the center of the griddle pancake along with a sprinkle of green onions, which cooks into the top of the batter. The banh khot is finished when the batter is cooked, and the outside is golden and crispy.
Banh khot, just like banh xeo, is served with a healthy assortment of lettuce and mustard leaves, and herbs and green leafy vegetables.
Finally, banh khot wouldn't be complete without the sweet fish sauce dressing.
Where to try
Address: 102 Cao Thắng, District 3, Ho Chi Minh City (but there are a couple of locations)
Open hours: 7 am – 10 pm, if you go during peak mealtimes it can get pretty busy
Price: We have a full meal of about 3 – 4 dishes for around the 200 – 300,000 VND ($9.23 – $13.85) range
15. Bột chiên (bot chien)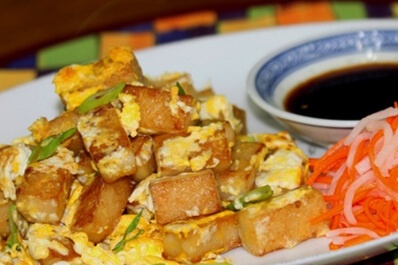 In Singapore and Malaysia it's known as a carrot cake, in Thailand it's kkanom pak gat, and in Vietnam it's known as bot chien. But all versions have Chinese Teochew chai tao kway to thank.
Bot chien is basically fried rice cakes. The rice cakes are made from rice flour and tapioca starch, and although Chinese and some other southeast Asian versions include daikon radish in the cakes, I think they are normally just rice in Vietnam.
The cakes are sliced into bite sized pieces, then fried, normally on a hot skillet in lots of lard, along with some light seasonings, until crispy and golden brown on the edges. Once cooked, the rice cakes are topped with an egg and a handful of green onions before being served.
The result of bot chien are little bite sized nuggets of crispy sticky rice flour, enriched with egg, and with a nice smoky flavor.
It's not the healthiest Vietnamese delicacy, that's for sure, but it sure is tasty once in a while.
Where to try
Street food stall at Bàn Cờ market

Address: Somewhere around Hem 174 Nguyễn Thiện Thuật, just off Ban Co street

Open hours: I'm actually not sure, but I ate this plate of bot chien at about 10 am and she was open. I think she's open from morning to evening.

Prices: 25,000 VND ($1.15) for a plate

16. Gỏi cuốn & chả giò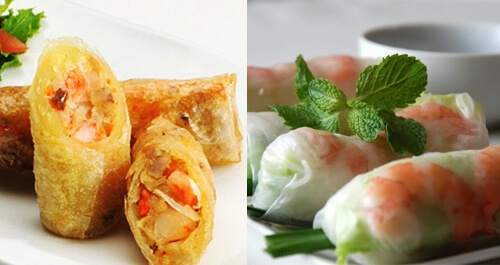 While pho might be the first dish that many people think of when they think about Vietnamese cuisine, for myself, it was and always has been goi cuon, the fresh, non-deep-fried summer rolls (though I often call them fresh spring rolls) that are ubiquitous is Vietnam.
Goi cuon are made with rice paper, known as banh trang, that's slightly moistened, then filled with, typically a mixture of rice vermicelli noodles, pieces of pork, shrimp, and then stuffed with leaves and herbs like basil and lettuce before being wrapped.
Finally, Vietnamese summer rolls are often served with a nutty hoisin dipping sauce and accompanied by freshly ground chili.
I could probably eat goi cuon all day long and with every meal, so I was pretty happy to see them available nearly everywhere I looked in Saigon. From street food stalls to fancy restaurants, you'll never be far from goi cuon.
Cha gio, are completely different taste-wise than their goi cuon counterparts, and they share few characteristics other than their egg roll shape and the fact that they're often sold side by side at many restaurants and street food stalls.
Cha gio are Vietnamese deep fried spring rolls, and though I've tried spring rolls (or egg rolls) in many places around the world, Vietnam makes some of the best I've ever had.
The egg rolls are often a combination of mung bean noodles, minced pork, and sometimes crab if you can find them, mixed with a subtle blend of salty spices, wrapped in rice paper, and then deep fried to a crisp.
What I love most about cha gio is the wrapper, which is typically prepared with rice paper, that when deep fried, almost has the crunch and thinness of baklava.
Where to try
Wrap and Roll Restaurant

Address: 62 Hai Ba Trung Street, District 1  or  226 De Tham street, District 1

Open hours: 10am – 10pm daily
17. Cơm tấm sườn nướng (com tam suon)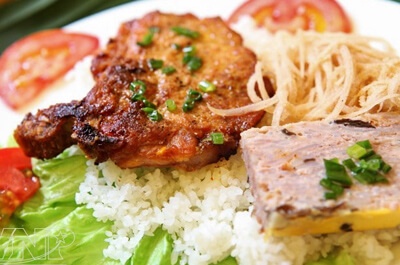 You've seen all the previous noodle dishes mentioned in this guide, but as much as I love noodles, I love rice more.
So let's move onto a few of the famous and most beloved Vietnamese rice based dishes. One of the most common meals I noticed throughout my stay in Saigon, especially known as a southern favorite, is the combination of rice (which is often broken rice, which are partially broken grains of rice that occur in the milling process), topped with a grilled pork chop.
The most basic version is known as cơm tấm sườn nướng, the broken rice and a thin grilled pork chop, served on a plate and accompanied by fish sauce dressing, cucumber pickles, green onion oil, and chilies to garnish.
Starting from the most basic version of com tam suon nuong, you can then upgrade with all sorts of marvelous extra things like a fried egg, Vietnamese meatloaf, pig skin, extra pork, more sausage… the list goes on.
Com tam suon nuong is available all over in Saigon, especially at small street food stalls and markets throughout the city.
I loved eating it for lunch and dinner, and a few times for breakfast as well.
Where to try
Com tam Ba Ghiền

Address: 84 Đặng Văn Ngữ, P. 10, Quận Phú Nhuận, Ho Chi Minh City

Open hours: 6 am – 10 pm daily, but I'd say it's best as a lunch spot, but dinner or breakfast would also be wonderful

Prices: We ordered 1 combination plate, 1 regular plate of rice with just a pork chop, and a couple of drinks and our total bill came to 104,000 VND (I think my combination plate was about 60,000 VND – $2.77, but I think just rice and pork was more about 30,000 VND)


Cơm tấm Mộc

Address: 82 Nguyễn Du street, District 1

Open hours: 6 am – 10 pm daily

Prices: 60.000 – 75.000 VND (3-3,5 $)
18. Cháo (chao)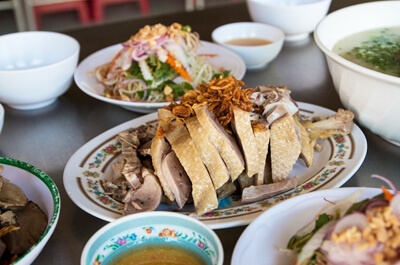 Nearly every Asian country has their own version of rice congee – a soothing rice porridge, often supplemented with some meat for flavor, and typically consumed for breakfast, but really at any time.
Cháo is the name for Vietnamese rice congee, and though there are many different types, with pork and pig organs (cháo lòng) being extremely popular, there's another version I really loved called cháo vịt, congee made with duck.
Alternatively, when you travel to Vietnam, just walk around the streets and you'll spot dozens of both restaurants and roaming street food stalls that sell chao, especially the pork organ version.
It's especially common in the morning for breakfast.
Where to try
Cháo Vịt Thanh Đa (Gốc Nhà Lá)

Address: 118 Bình Quới, P. 27, Ho Chi Minh City – it's located north of Saigon, on the small horseshoe shaped island

Open hours: 7 am – 11 pm daily

Price: We paid a total of 283,000 VND (about $13) for three of us, but rather than a light breakfast, we had an entire family sized meal, which probably should have fed more than three of us (but I wasn't complaining, that's for sure). So I thought for the value of the food we got, it was a great deal.

19. Chè (Sweet soup)
Desserts in Vietnam are generally different than most western desserts. Granted, there is the occasional baked item taken from the French and made into a Vietnamese version. However, there is one set of desserts that is inherently Vietnamese and that is Chè.
No, it's not the rather famous beret clad revolutionary whose face is plastered on shirts all over Pham Ngu Lao. In fact, it's a family of desserts. It may be served hot or cold in bowls, glasses, or over ice, and contain a range of ingredients ranging from a wide range of beans to tapioca, jellies, glutinous rice, and fruit. Let's try


Chè ba màu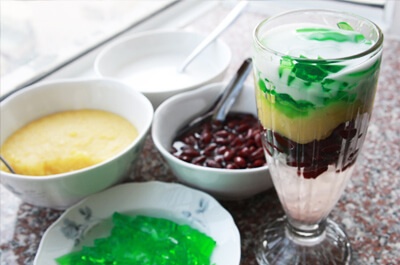 Literally translated as Dessert three colours, the main variant of this dessert is served with three types of coloured green jelly in slightly sweet coconut juice. The ingredients are usually served in layers and then mixed up when eaten and makes for a light yet refreshing snack.
Chè đậu đỏ bánh lọt
Kind of like the smorgasbord of the Chè family, this one has it all. It's usually served with beans, jelly, and/or tapioca.
Sâm  bổ lượng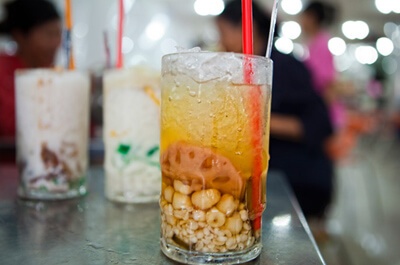 More of a restorative than a dessert , this Chè can have dried red jujube, peanuts, taro, cassava, ginseng root, seaweed and/or water chesnuts. What also makes this dessert different is that there is no coconut milk in the syrup.
Chè Thái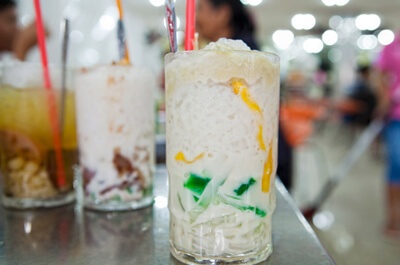 A version of Thailand's tub tim grawb, the Vietnamese version is less sweet and uses a variety of fruits that can include jackfruit, longan, lychee, palm seed, and most importantly durian.
Chè trôi nước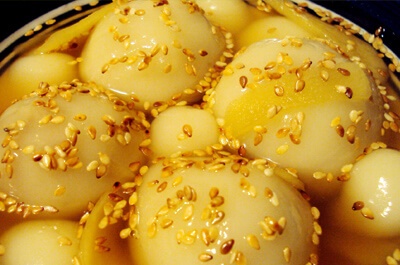 This dessert is made with mung bean paste in a dumpling made of glutinous rice flour that has a texture similar to mochi. It is served in a thick clear or brown liquid made of water, sugar, and grated ginger root.
Where to try
Chè Thái

Add: 380 Nguyen Tri Phuong Str, District. 10. Tel: 09 3333 8128
Xôi Chè

Add: 111 Bui Thi Xuan Str, Pham Ngu Lao D. 1. Tel: 08 38332748

Add: 33 Dinh Tien Hoang Str, Binh Thanh Disctrict Tel: 08 3517 8333

Add: 160 Nguyen Oanh Quan Go Vap HCMC. Tel: 08 6675 3882

Or inside Ben Thanh market

20.Coffee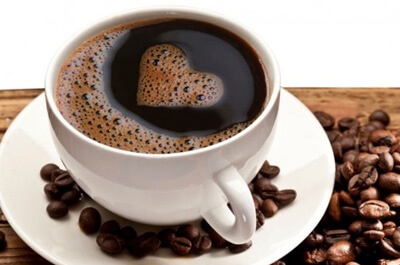 Made from Vietnamese-grown dark roast coffee beans, the coffee is first brewed in a French-style drip filter (not our preferred style of coffee-making usually), which is poured into a glass of ice to which sweetened condensed milk is then added and stirred. (I'll then add lots of sugar.) Sometimes the coffee is pre-made although traditionally it's individually brewed for each customer in a small metal drip filter, called cà phê phin, which sits atop the coffee glass.
In Saigon, you'll see Vietnamese coffee sold on virtually every second street block, at small stands usually manned by women, who temporarily turn a portion of the footpath into a pavement café. Tiny colourful plastic stools are scattered about the sidewalk or stacked up against a wall, and customers help themselves to a seat while they wait for their coffee. So you never have to walk far in the sticky heat for a caffeine hit and coolant.
If you've had enough of the heat and need some air-conditioning for a while, traditional Vietnamese iced coffee is also sold alongside Italian espressos, cappuccinos. So if your preference might normally be for a Starbucks experience, do the right thing and head to Highlands Coffee or Trung Nguyen instead.
Where to try
Trung Nguyen Coffee:

6A Dong Khoi Str, District 1

128 Hai Ba Trung Str, District 1
Highland Coffee:

75 Nguyen Du Str, Distric1

181 Ham Nghi Str, District 1
L'Usine:
151 Dong Khoi Str, District 1