If you have 5 – 7 days free
Hoi An – Da Nang – Hue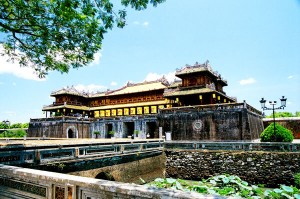 The cultural heart of the nation, central Vietnam is fully loaded with historical sights and cultural interest, and blessed with ravishing beaches and outstanding national parks. Marvel at Hue and its imperial citadel and royal tombs. Savour the unique grace of riverside jewel Hoi An. Tour the military sites of the Demilitarised Zone (DMZ). Check out Danang, fast-emerging as one of the nation's most dynamic cities. And don't neglect the extraordinary Phong Nha region, home to three gargantuan cave systems (including the world's largest cave). And when you've had enough of touring the sights, invest in some well-deserved hammock time on the golden sands of An Bang beach or learn to cook central Vietnamese cuisine, the nation's most complex. And now with improving highways, and upgraded international airports at Hue and Danang, access to this utterly compelling and diverse part of the nation has never been easier.
Palaces and pagodas, tombs and temples, culture and cuisine, history and heartbreak – there's no shortage of poetic pairings to describe Hue (pronounced 'hway'). A Unesco World Heritage site, this deeply evocative capital of the Nguyen emperors still resonates with the glories of imperial Vietnam, even though many of its finest buildings were destroyed during the American War.
Hue owes its charm partly to its location on the Perfume River – picturesque on a clear day, atmospheric even in less flattering weather. There's always restoration work going on to recover Hue's royal splendour, but today the city is very much a blend of new and old as sleek modern hotels tower over crumbling century-old Citadel walls.
The city hosts a huge biennial arts festival, the Festival of Hue, in even-numbered years, featuring local and international artists and performers. Journalist Gavin Young's 1997 memoir A Wavering Grace is a moving account of his 30-year relationship with a family from Hue and with the city itself, during and beyond the American War. It makes a good literary companion for a stay in the city.
Tourism has brought an excess of touts (who can dog your every step), but, minor hassles aside, Hue remains a tranquil conservative city. There's no real bar scene and local tourism authorities have lamented the fact that locals go to bed before 10pm.
Ha Noi
Showcasing sweeping boulevards, tree-fringed lakes and ancient pagodas, Hanoi is Asia's most atmospheric capital. Just don't expect a sleepy ambience. It's an energetic city on the move, and Hanoi's ambitious citizens are determined to make up for lost time.
As motorbikes and pedestrians ebb and flow through the Old Quarter's centuries-old commercial chaos, hawkers in conical hats still ply their wares while other locals breakfast on noodles or sip drip-coffee. At dawn on the shores of Hoan Kiem Lake, synchronised t'ai chi sessions take place beside goateed grandfathers contemplating their next chess moves. In Lenin Park, choreographed military drills have been replaced by chaotic skateboarders, while Hanoi's bright young things celebrate in cosmopolitan restaurants and bars.
Real estate development and traffic chaos increasingly threaten to subsume Hanoi's compelling blend of Parisian grace and Asian pace, but a beguiling coexistence of the medieval and the modern still enthrals.
Sapa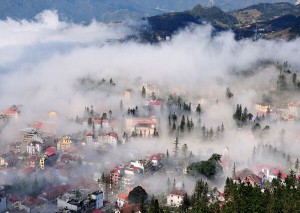 Established as a hill station by the French in 1922, Sapa is the one place in the northwest where tourism is booming. It's now firmly on the European and North American package-tour circuit, and well-equipped trekkers are a common sight around town.
The town is orientated to make the most of the spectacular views emerging on clear days. It overlooks a plunging valley of cascading rice terraces, with mountains towering above on all sides. Views of this epic scenery are often subdued by thick mist rolling across the peaks, but even if it's cloudy, Sapa is still a fascinating destination, especially when local hill-tribe people fill the town with colour.
The town's French colonial villas fell into disrepair during successive wars with the French, Americans and Chinese, but following the advent of tourism, Sapa has experienced a renaissance. The downside is a hotel building boom, and because height restrictions are rarely enforced, the Sapa skyline is changing for the worse.
Inherent in this prosperity is cultural change for the hill-tribe people. The H'mong people are very canny traders, urging you to buy handicrafts and trinkets. Many have had little formal education, yet all the youngsters have a good command of English, French and a handful of other languages.
Ha Long Bay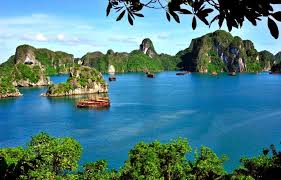 Imagine 2000 or more islands rising from the emerald waters of the Gulf of Tonkin and you have a vision of breathtaking beauty. Halong translates as 'where the dragon descends into the sea', and legend claims the islands of Halong Baywere created by a great dragon from the mountains. As it charged towards the coast, its flailing tail gouged out valleys and crevasses. When it finally plunged into the sea, the area filled with water, leaving only the pinnacles visible.
Designated a World Heritage site in 1994, this mystical landscape of limestone islets is often compared to Guilin in China or Krabi in southern Thailand. In reality, Halong Bay is more spectacular. The bay's immense number of islands are dotted with wind- and wave-eroded grottoes, and their sparsely forested slopes ring with birdsong.
Beyond a boat cruise, visitors to Halong also come to explore the caves. There are few real beaches in Halong Bay, but Lan Ha Bay has sandy coves a short boat hop from Cat Ba Town. Sprawling Halong City is the bay's main gateway, but the raffish collection of highrise hotels and karaoke bars is not a great introduction to this incredible site. Most visitors sensibly opt for tours that include sleeping on a boat in the bay. Some travellers dodge Halong City and head straight for Cat Ba Town, from where trips to less-visited, equally alluring Lan Ha Bay are easily set up. Cat Ba Island can also be a good base for visiting the landscapes of Halong Bay itself.
As the number-one tourist attraction in the northeast, Halong Bay attracts visitors year-round. January to March is often cool and drizzly, and the ensuing fog can make visibility low, but also adds an ethereal air. From May to September tropical storms are frequent, and year round, tourist boats sometimes need to alter their itineraries, depending on the weather. Some tour companies offer full or partial refunds if tours are cancelled; check when you book.
TRAVEL COMPANY: 
1- Saigon tourist 
Add: 23 Le Loi st, District 1, HCMC
Tel : (84.8) 3829 2291 – 3822 5874
Website: http://www.saigon-tourist.com 
Email: saigontourist@sgtourist.com.vn
2- Viettravel 
Add: 190 Pasteur, P.6, Q.3, Tp. Hồ Chí Minh
Tel: (84.8) 38 22 8898 (20 lines)
Website: http://www.vietravel.com.vn/ 
Mail: info@vietravel.com
3- TheSinh tourist 
Add: 246 – 248 De Tham St., District 1, HCMC
Tel: +84.8.38389593
Email: info@thesinhtourist.vn
Website: http://www.thesinhtourist.vn 
4- Ben Thanh Tourist 
Add: 79 Nguyen Trai st, District 1
Tel: (084) 39254254
Website: http://vn.benthanhtourist.com