Diamond Plaza is a beautifully renovated department store in a Ho Chi Minh City surrounded by many of the city's most…
1-Ben Thanh MARKET 
Situated in downtown Ho Chi Minh City, bustling Ben Thanh Market in District 1 is a great place to buy local handicrafts, branded goods, Vietnamese art and other souvenirs.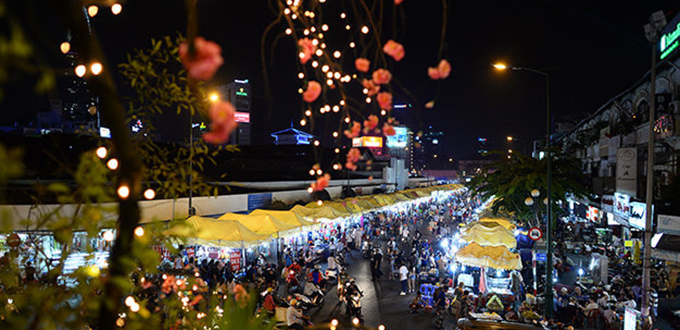 Here, you'll find eating stalls inside the market where you can get a taste of hawker-style Vietnamese cuisine or simply cool off with a cold drink when the bargaining becomes too much.
The market is big, difficult to navigate at times and certainly best avoided during the hottest part of the day but all the same its well worth a look. When night falls, restaurants around the perimeter of the market open their doors creating a vibrant street side scene filling the air with the scents of wok-fried noodles, barbecued fish and meats.
One of Saigon's oldest landmarks, Ben Thanh offers a great atmosphere that is absolutely authentically Vietnamese
2- DIAMOND PLAZA DEPARTMENT STORE 
Diamond Plaza is a beautifully renovated department store in a Ho Chi Minh City surrounded by many of the city's most attractive sites, such as Notre Dame Cathedral, Saigon Post Office, and the April 30th Park – a charming open space with tall trees and greenery. The department store is housed in a charming colonial-looking building, with an attractive glass-fronted office block rising up into the sky just behind the shopping centre. There are many reasons to visit Diamond Plaza, not least for the world class shopping: cosmetics, perfumes, watches and jewellery occupy the first floor, both men's and women' wear on the second, including formal attire and most major sporting brands, and on the third floor there is a convenient collection of electronic products and mobile phones.
The other main reason for choosing to visit Diamond Plaza is the family entertainment options such as the large bowling alley and video arcade on the fourth floor, and the Diamond Cinema on the 13th floor.
Superbowl Vietnam is modern and colourful with all the flashing lights and loud clatter of pins common in bowling alleys across the world. The 32 lanes at Diamond Superbowl ensure there is almost always an alley available, but it might be worth booking on weekend evenings. Prices per hour of bowling range significantly from weekday mornings (200,000 VND) to weekends after 19:00 (375,000 VND).
Location: 34 Le Duan Str, District 1
3- SAIGON DUTY FREE SHOP
This store is at 102 Nguyen Hue Blvd in District 1, and specialises in the usual duty-free items such as perfumes and colognes. It is open from Monday to Friday.
4- SAIGON SQUARE SHOPPING 
Anyone looking for bargains while in Saigon should head to Saigon Square on the corner of Nam Kỳ Khởi and Le Loi in District 1. This shopping arcade is packed with stalls on two levels selling fashion, accessories and jewellery – be aware of forgeries though, and remember the old adage that if it seems too good to be true it probably is. Even though it's always bustling with shoppers, Saigon Square is air conditioned and under cover so it is far more pleasant than shopping in the nearby Ben Thanh Market and it's generally accepted that prices are far better here.
Hops and stalls in Saigon Square are seemingly placed haphazardly around the mall so the best thing to do is just stroll along the aisles looking for something that takes your fancy. Bargaining is expected here and as it is so close to the tourist heart of Ho Chi Minh, prices are initially inflated. If there is something you have your eye on, shop around and enquire about prices as it is fairly easy to find different shops selling similar items. Just consider what you would be willing to pay for an item and bargain accordingly.
Location:
– Saigon Square 1: 77-89 Nam Ki Khoi Nghia Str, District 1
– Saigon Square 2: 7 Ton Duc Thang Str, District 1
5- VINCOM CENTRE SHOPPING MALL
With more than 250 shops, Vincom Center is Ho Chi Minh City's biggest shopping mall – so big in fact, that they have separated it into two separate buildings just across the street from each other. Vincom Center A is housed in a delightful French styled period building connected to The Continent Hotel, while Vincom Center B is just behind it, occupying the first five storeys of a modern, glass-fronted skyscraper. If you are looking for international products then this should be your first stop as this is where most international luxury brands have their flagship stores, right in the tourist heart of the city. There are also some convenient restaurants and cafes serving food from most regions including many international franchises.
Vincom Center A
Vincom Centre A is the smaller and prettier one, with a beautiful, baroque styled facade and nothing but the top brands in world fashion pulling customers in with inventive window displays: think Hugo Boss, Ralph Lauren and Hermes. As well as premium fashion, there are a limited number of electronics retailers and bespoke home decor shops on the higher floors. On the basement floor there is a children's playpen called Kids Yard and just next door, an excellent Paris Baguette bakery that sells a wide range of goods and some of the most delicious baguettes in Ho Chi Minh.
Location: 72 Le Thanh Ton Str, District 1
6- ZEN PLAZA 
Modern shopping mall in the city centre. This is where you go to buy Vietnamese designer clothes as well as well-known Western brands. But this is not a place to catch bargains. There are food courts (Pho24 is here too) and a well-stocked photo studio on the 7th floor Location: 54-56 Nguyen Trai Str, District 1.
7- AN DONG PLAZA/MARKET
This three-story market (both a retail and wholesale market) is not at all fancy but it has some modern architecture including escalators. Located in District 5 (Chinatown), it is a must for handicrafts enthusiasts. Just go directly to the top floor and spend time hunting for good quality woodwork, lacquer ware, knitwear and various type of Vietnamese crafts. An Dong is also famous for fabrics. Prices are cheaper than other bigger markets, especially those downtown.
Location: 18 An Duong Vuong Str, District 5