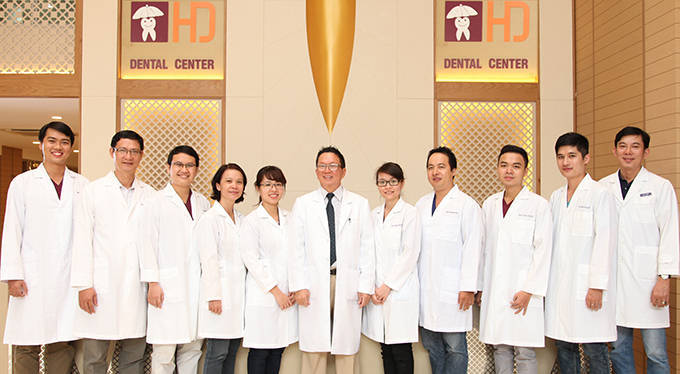 At Dr Hung; Associates Dental Center, although we cannot promise to offer you the cheapest price, but we guarantee to provide the best treatment with excellent quality and a very reasonable price for your budget.
Why should you choose Dr Hung & Associates Dental Center?
1.
Our professional team is highly specialized and has had many years of experience in dentistry. Focused on our mission of "Providing Perfection" to all customers, our highly qualified doctors who always perform their services whole-heartedly will provide you with not only the best treatment but also the perfect experience.
2.
All mordern equipment at Dr.Hung & Associates Dental Center is invested with fully-constituted system and the latest technology. It creates the best environment for the working doctors to give the best result for our clients. Especially we are the first dental clinic in Vietnam equipped with a CT Cone-Beam 3D i-CAT made in USA and separate operation areas specialized for implant placement and maxillofacial surgeries.
3.
Dr Hung & Associates Dental Center has similar structure to a dental hospital with full range dental Department, including imaging diagnosis department; implant placement – cosmetic dentistry – orthodontics – oral & maxillofacial surgery – …departments , infection control department , in house dental lab with CAD/Cam technique, etc. We control full treatment procedure from diagnosis – imaging – treatment – dental lab. You just need to walk in…and you will leave us with the perfect smile that you have always wanted. (Just in 2 hours, 2 days or 2 weeks)
4
. Dr Hung & Associates Dental Center only uses the best equipment and materials imported directly from Europe and the US.
5.
We are committed to provide the perfect dental experience "Relax with Painless Dentistry". Our sophisticated equipment, piped-in wall oxygen systems and our anesthetist to help you relax during the whole process. You will be able to forget all the pain when visiting the dentists with this treatment.
6.
Dr Hung & Associates Dental Center thoroughly apply new concepts in the dental treatment "MINIMUM INTERVENTION – MAXIMUM EFFICIENCY" and follow the practice of "preserving the natural elements of the human body"
7.
Our Dental Center strictly follows the sterilization process based on the standards of the Vietnam Healthcare Department and FDA standards (the USA) to ensure the completely sterile for all dental instruments.
8.
Dr Hung & Associates Dental Center has the best warranty policy for our service: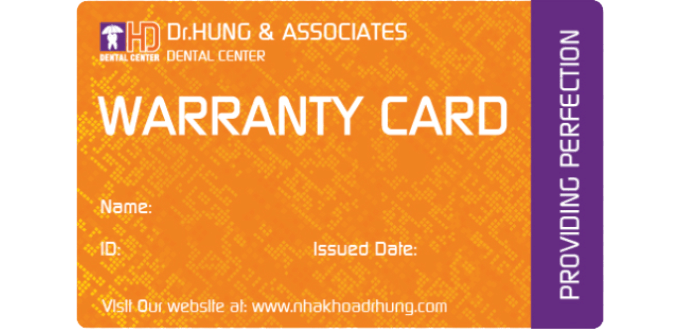 • Lifetime guarantee for Implant placement by Nobel Biocare and Straumann Implant system. • 10 years guarantee for Prosthodontics such as aesthetic porcelain crown, bridge and crown on Implant.
9.
Dr Hung & Associates Dental Center is like a family of yours. Here we provide a warm and welcoming environment . You will feel as you're in a 5 star hotel with a peaceful & beautiful space for your relax vacation.
10.
You will always get the best result for your dental treatment.